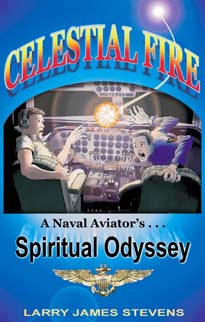 In the late 1960s, during a blinding electrical storm, a Navy flight crew was transporting a classified and exceedingly dangerous shipment over a long, desolate stretch of the Pacific Ocean. Suddenly, Lt. Larry James Stevens came face to face with a phenomenon so seemingly horrific and bewildering that its eventual reportage was disbelieved by all personnel assigned to flight squadron VR-21—except the nine crewmen that also escaped the invader's wrath. This terrifying and unexplained (until now) contact, combined with several other paranormal-like interventions—both during and after the Viet Nam War—motivated this intensely inquisitive Science-of-Mind and Spirit researcher to invest over thirty years in a quest to uncover the transformational message contained within extraordinary experience. His empowering, uplifting discoveries are user-friendly for both believers and skeptics.
| | |
| --- | --- |
| | Read the back cover of Celestial Fire [ JPG or PDF ] |
Have you checked your SPIRITUAL DNA lately? Discover how to:

Unearth and activate your partially sleeping reservoir of Spiritual DNA. Reveal a bountiful array of preexisting gifts, talents, and abilities, soul-selected for your use in this lifetime.


Use the new science of Holographic Psychology to achieve more complete and all-inclusive understanding of human behavior. With LOCATION of Comprehension principles, learn glorious mastery over ALL relationships—including the one with your own inner critic.


Interpret meaning and purpose behind so-called paranormal or miraculous occurrences. Learn what they reveal about your life's highest purpose. Discover that there are NO supernatural phenomena; just previously misunderstood events and energies.
As "SoulMan" Larry's copilot, you'll experience . . .

the adrenaline rush of riding in the cockpit during Larry's "white knuckle" flights. Feel the import of the overriding Spiritual message, as it's being delivered…


the inflow of uncorrupted inner power as you learn—along with Larry—of your true magnificence. Never again feel like a victim of circumstance, or person; even when in the company of control maniacs or other energy vampires…


guided visualizations that will help transport you beyond the amnesiac veil of normal conscious awareness. Learn self-actualizing concepts for mastering the here-and-now material-world existence. Feel the majestic potency of the collective, Universal Mind…


awesome cosmic-healing energy as a replacement for emotional fear and inner feelings of unworthiness. Develop a gratifying and transformational love affair with all life!
"Larry James Stevens is a Spiritual Will Rogers. With intelligence, humor, idealistic sensitivity, passion and illuminating insight, he has created inspiring, story-line examples that diagram human potential and esoteric realms with an entertaining and practical elegance."
— Dr. James P. Pottenger, former protégé of Science of Mind Founder, Ernest Holmes, and the developer of Science of Spirit/Holographic Psychology.
"OUR world is OUR reflection of OUR reality."